---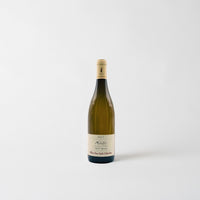 This 100% Chardonnay from the Southern vineyard of Burgundy (Cote Chalonaise) is remarkably delicate, with lots of freshness well balanced with the structure of the oak ageing. The "Cailloux" is a 1.5 hectare vineyard planted on very rocky limestone making wine concentrated, with mineral notes and freshness. To be paired with grilled fish or delicate white meats, on cheese also. 
Felix

 Debavelaere,
winemaker of Domaine Rois Mages in Rully, has really impressed us in his approach of winemaking, and with his unique vineyard terroir, part of the Southern part of Burgundy. Included in the Cote Chalonnaise, Rully is part of the lesser-known appellations worldwide, however it's history is there and was one of the oldest winemaking regions with the helps of the monks of the nearby Abbeye in Dijon.Rully is now an appellation really talked about in the industry as their terroirs are very distinctives making unique wines, part of it is the unusual vineyards elevation, 
as well as the iconic soils built of clay - limestone with a very rocky dominance.
Domaine Rois Mages, established in 1984 by 
Felix
's mother Anne-Sophie, family native of the region they were well aware of the importance of the soils in Rully, the Domaine puts a real accent on vinifying each parcel seperately as their soils and elevation make them each unique. 
Felix
 has now 11 hectares with some of the 'climats' known in Rully : Les Cailloux, Moulin a Vent, Plante Moraine.