---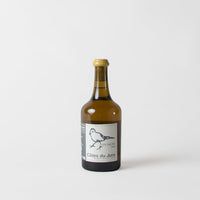 Didier Grappe is an uncompromising vigneron who knows that his oxidative end result is as much a product of natural winemaking as it of natural farming. He believes good wine starts with the vine, and his hard work and dedication to his vineyards are a tribute to nature.
This 2012 Vin Jaune is extraordinary, probably the most natural wine you can find. Made of the Savagnin grape, the wine is left intentionally for 6 years and 3 months in barrels under a natural yeast protective layer called "flor". The result is just spectacular, a complex nose of nuts, dried fruits and salty notes. The veil of "flor" yeast lends to the palate the oxidative character and  some distinctive nutty aromas of green walnut and morels mushrooms notes. This 2010 vintage still expresses a lot of energy and freshness.
This unusual wine is exceptional paired with creamy chicken dishes or as the perfect match for the regions other delicacy... Comté!!