---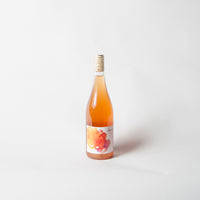 Shashi and Devendra Singh have been growing grapes biodynamically on their Red Hill South farm since 2005 and have been producing an outstanding Syrah under the label "Avani Syrah" since 2009. Shashi believes on minimal intervention in her winemaking process and works on maintaining natural acidity in her wines. Since 2015, they have been sourcing quality fruits around the Mornington peninsula to extend their offering and create the "Amrit" range. 
This Pinot Gris is made from a vineyard in Shoreham, it's left to macerate on skins for 4 weeks, creating this delicious orange wine. It's fermented with natural yeast in old oak barrels. 
This a aromatic, spicy style of orange wine, with lots of blood orange notes, strawberry gum tree, rose petals, bergamot tea and botanicals. The palate has a good natural acidity with a nice fruit and a nice texture, tannins and a nice savoury finish. 
To be enjoyed with food, with a spiced roasted cauliflower, spicy dahl, or a grilled meat.