---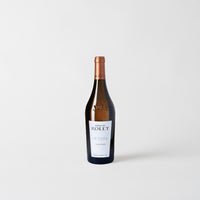 The 'Tradition' wine is an iconic wine in this small region. 
Domaine Rolet is a famous producer based in Arbois. Established in 1942, the domaine has risen in prominence in the region and has acquired prime old vine vineyards in the appellations of Arbois and Côtes du Jura.
This white wine made of 50% Chardonnay and 50% Savagnin, is vinified in oak barrels - not topped up - which means the wine was deliberately left in contact with the air, creating a thin layer of yeast on the surface making an oxidised wine. 
This results in a wine with more intense aromas (walnut, halzenuts, almonds and vanilla spices) in which you will find both expression of the power and the finesse of the two grape varieties.
If you haven't yet tried an oxidised wine from Jura, this is a great introduction, to be enjoyed with cheese, cheese souffle, quiche or with white meat. Great as an apperitif too!