---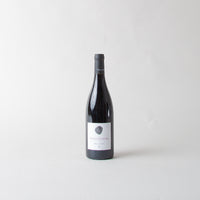 This complex St Joseph, 100% Syrah from 'Montrond' is made from 2 plots of land of 15 to 25 years old vineyards offering the balance of its maturity and whilst retaining the all impetuosity of its youth. It's a vibrant yet complex expression of Syrah grown on pebbly, granitic soil near the village of Limony (1.7 hectares). After being harvested by hand the destemmed grapes are fermented in concrete tanks, with pump overs every day as the Syrah likes oxygen during this process (instead of doing pigeage), the wine is aged in barrels during 9 to 10 months. 
Aromas of appealing red fruits, violet and blackcurrant. After breathing, notes of cherry and eau-de-vie (French brandy) appear. A full and juicy Saint-Joseph precise and smoothed out tannins for a subtle and complex wine.
Hailing from the Northern Rhône and a family of local farmers, Nicolas Badel trained as an engineer before deciding that winemaking was where his heart was. Nicolas returned to school and studied viticulture, spending many years working in other people's vineyards. In 1999 he acquired his vineyards in Saint-Joseph and Condrieu near the town of Limony (Northern most part of the Rhone Valley) and began by selling his wine to the local cooperative, waiting until he was ready to release his own wine in 2010 from his own 7 hectares. He is not one to rush anything; instead, he is a steadfast perfectionist who prefers to take his time and do things the right way. He has been certified organic since the very beginning and is now in the process of carefully working biodynamics into his vineyards, with the intent of making the finest wines possible from his terroir.