---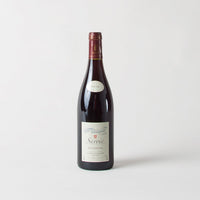 David Dupasquier's family has been farming the steep slopes of Jongieux for five generations. The domain is located in the alpine village of Aimavigne in the southwestern corner of the Savoi region of the French Alps. The vines are rooted in limestone-rich clay, with the rows blanketing the steep, sun-drenched slopes of the village.
Domaine Dupasquier is often described as 'traditional', in reference to the finely honed production methods and practices that have remained unchanged for generations.
Mondeuse is an indigenous Savoie red grape variety, similar to Syrah, making a fresh bright red wine with a deep ruby color. On the nose you get characters of cherries, juniper berries, cassis leaf and notes of black pepper and cloves. 
Very pleasant to drink!