---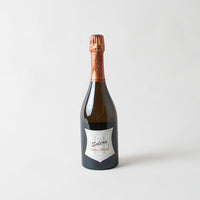 Olivier Horiot has been a revelation in the champagne region in the recent years.
He took over his dad's vineyard in 1999. The estate has been producing "still wines", since 1600, and all of the production used to be sold to the local cooperative. Since 2000, Olivier has created his own label and produced some superb champagnes with a strong personality. 
'One soil - kimmeridgian limestone and 7 varietals - Arbane, Petit Meslier, Chardonnay and 4 pinots ( Blanc, Gris, Meunier & Noir). 
This Champagne is fermented in oak barrels and blended under a solera method. It's also has no dosage. 
It reveals an attractive golden appearance and a bouquet releasing complex, evolving notes of quince, apple and brioche and some tertiary notes like almonds. Vinous, powerful yet subtle with vivacity and salinity on the palate.