---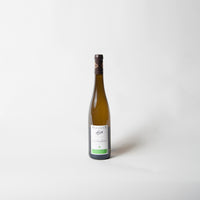 'Les Gryphees' is a fresh wine made from a blend of different grape varieties (Pinot Gris, Muller Thurgau & Pinot Auxerrois, Gewurztraminer) in a stainless steel. 
Produced in a relatively unknown French wine region called the Moselle. Located in the North of France near the German border, surrounded by a local pine forest called "Les Vosges".
Norbert and Marie-Geneviève Molozay started making wine in 1999 and have since converted their vineyard to biodynamic practices. 
It's a very pretty wine with lots of floral notes on the nose, pear and apples. The palate is fun and fresh with a good amount of texture. A charming wine to be enjoyed on any occasion!