---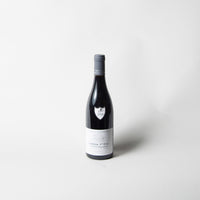 The Ladoix appellation area straddles the Côte de Beaune and Côte de Nuits growing regions. The Ladoix vineyard lies at the foot of the famous Corton hillside. The older vines on these parcels were planted between 1926 and 1960. The estate's holdings are located on a clayey limestone soil, overlying dark brown marls.
Grapes are hand-picked and then conveyed to the winery in crates. Part of the harvest is stripped and poured into a vat, where it ferments for an 8- to 10-day period. The technique employed enables producing elegant and delicate wines. After pressing, fermentation is completed in vats before transport to the cellars for barrelling, where vinification will last 12-18 months. Two or three racking steps will be carried out in order to separate out the deposits forming at the barrel bottom during the various vinification phases. Prior to bottling, a last racking allows assembling the wine in preparation of the clarification step. Just one slight filtration is performed before bottling.
This wine offers a deep ruby red colour. Its bouquet permeates fresh berries (blackcurrant and raspberry). The wine has a supple, elegant and delicate structure, a bouquet of flowers. The finishing taste lends a truly remarkable finesse and elegance.