---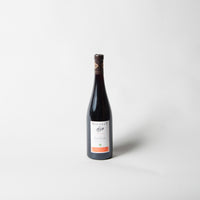 Les Clos is spectacular Pinot Noir made in a relatively unknown French wine region called the Moselle. Located in the North of France near the German border, surrounded by a local pine forest called "Les Vosges". 
Norbert and Marie-Geneviève Molozay started making wine in 1999 and have since converted their vineyard to biodynamic practices. 
This 100% Pinot Noir is powerful and complex, with delicious aromas of red and black fruits, cocoa and mild spices. This wine has a sticking palate, full bodied with a great tannin structure and beautiful minerality showing exceptional depth. Blackberries and black cherries, with liquorice and spices. 
If you drink Burgundy Pinot Noir, this quirky wine from an under rated region is made for you! 
To be paired with hearty, flavourful dishes or game, also perfect with mature cheeses like a 'Langres'